Social media has exploded after a fish with human teeth has surfaced. Not that many fish are known for their good looks, they often emerge from the depths with strange bulging eyes, extreme bites and bizarre barbs protruding from their heads.
Scary' fish with 'human teeth' baffles social media users
But things get particularly creepy when one pokes its head out to show what look a lot like human teeth, as it did recently in the United States , going viral online.
Photos of the strange catch were posted on the Facebook page of Jennette's Pier, a fishing spot in Nags Head, North Carolina.
The caption simply reads '#bigteethbigtimes'.
Indeed, the big fish can be seen gawking at the camera with its surprisingly strong set of gnashers in one photo, while another snapshot shows the size of the beast as someone holds it with both hands.
The post has since racked up 1,200 reactions and hundreds of shares, along with hundreds of comments from bizarre social media users.
Many people said they believed the fish is an S heepshead, although one person was still convinced its teeth were 'human'.
They said, "It's called a sheepshead, but those teeth are human, so the image is altered" .
According to the Charlotte Observer, the 9-pound fish was caught by a man named Nathan Martin, who had been fishing with his twin brother on Monday (Aug. 2) when he found a fish with a 'mouth full of teeth.'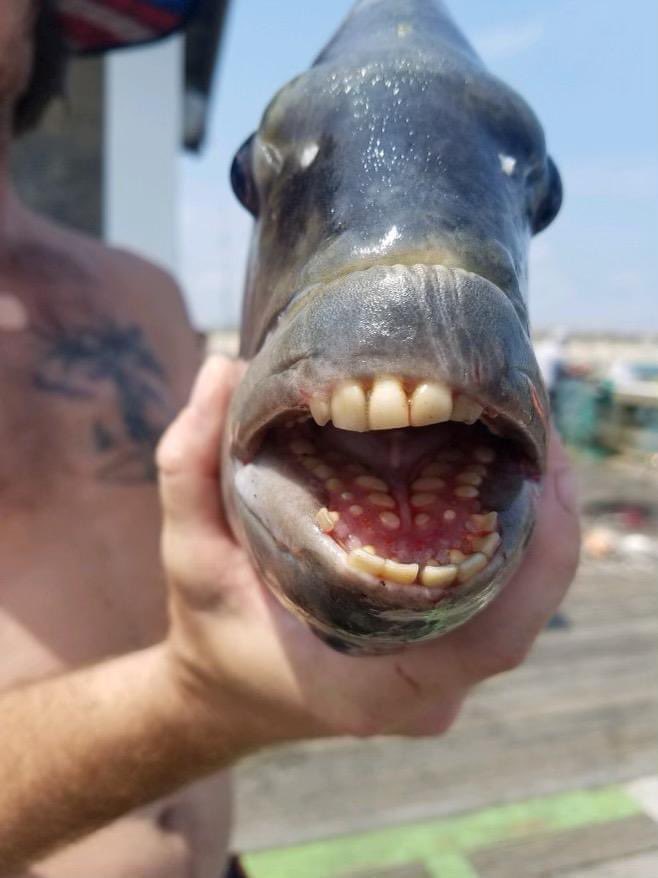 Martin, a regular on the pier who had been out hoping to catch a sheepshead, told McClatchy News, "It's a really good fight when you're fighting on the line, it's a really good catch and it tastes really good . "
According to the North Carolina Department of Environmental Quality, Sheepshead fish generally weigh about 5 to 15 pounds and are about 30 inches long.