The head of Netflix has revealed that The Squid Game is on track to become its most popular series. The streaming giant has unveiled the list of the most watched series and movies on its platform and there aren't many surprises.
Squid Game is on track to become Netflix's most popular TV series
Extraction reached nearly 100 million accounts in the first 28 days of its premiere, while Bridgerton reached 82 million households in the same time period.
The rest of the top 10 list is littered with familiar titles such as The Witcher, Bird Box, Stranger Things and Spenser Confidential.
However, Netflix co-CEO and chief content officer Ted Sarandos has revealed that there could soon be a new TV series at the top of the list if the current trend continues.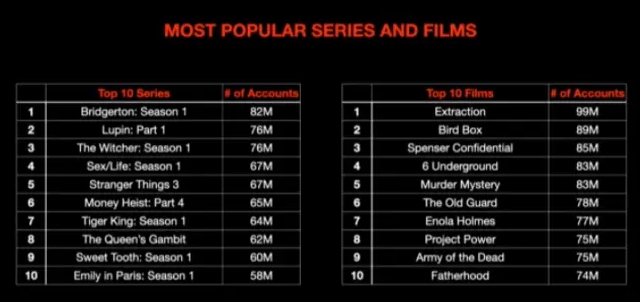 In an appearance at Vox Media's Code Conference at the Beverly Hilton, he noted that the wildly popular Korean series Squid Game is number one in the world right now and "on track to be the most popular Netflix series ever," according to Variety.
"We didn't see that coming, in terms of global popularity," Sarandos said. The series is not for the faint of heart, and contains some truly gruesome and gory scenes, as well as a load more psychological and existential horror.
The premise is simple: a series of cash-strapped gamers compete against each other in a selection of potentially deadly children's games for a share of a $38.5 million prize.
The film has earned a coveted 100% score on Rotten Tomatoes, and critics love it.
Joel Keller of Decider said, "Squid Game's takes a fresh idea and turns it into a thrilling drama; we hope it continues to build the tension we saw in the last 20 minutes throughout the season."