A British student who apparently decided to go on vacation to Afghanistan and claimed he got stuck in Kabul as people tried to leave the country to escape Taliban rule has now said he has been evacuated to Dubai.
Student who says he 'went on vacation' to Afghanistan claims he has been evacuated to Dubai
Miles Routledge, who says he is a student at Loughborough University, claimed on Facebook that he had been evacuated from a safe house this morning.
Upon his supposed arrival, he posted a video that appears to show him at an airport and said he was "safe."
Routledge had claimed he had been abandoned by the British embassy, who said it had not responded to any of his phone calls or emails.
"No more flights in Kabul, I'm stuck in Afghanistan. A bit pickled, " he wrote yesterday, before claiming he was evacuated.
Routledge claims he traveled to the country last week, believing it would not be dangerous. "I was under the impression that the country wouldn't fall for another month, so I thought I was going to be OK," he said in an interview with The Spectator, apparently from the United Nations safe house. "I had seen videos on YouTube of people going. I thought maybe the worst-case scenario would be food poisoning."
Meanwhile, in an interview with The Times, Routledge admitted that he is drawn to risky situations.
"I hate lying on the beach, so I wanted to do something a bit different. After I graduate I'll have a full-time job and maybe a family, so I won't have the opportunity to do things like this again. I thought [Afghanistan] looked pretty cool, the food looked amazing and it was really cheap," she said.
Routledge has been keeping people updated through his social media accounts, including the video streaming platform Twitch, Facebook and 4chan.
Yesterday, she continued to provide her friends and followers with regular updates on her alleged situation. "I'm safe in this safe house, people are great," she said.
Then, this morning, she claimed she was on a flight to Dubai with 100 other British nationals.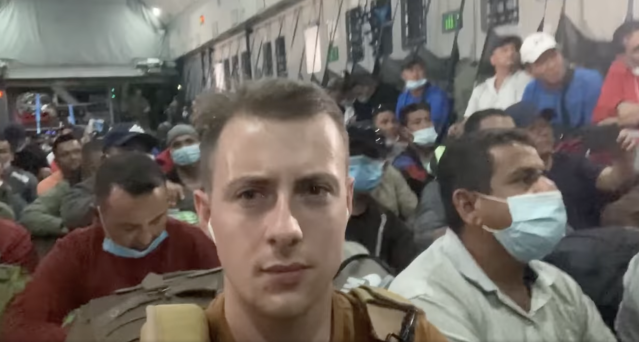 An MoD spokesman confirmed that there had been UK military flights from Kabul to Dubai at the time, but could not verify whether the footage was filmed on board one of them.
A Foreign Office spokesman said, "We are aware of this case and are trying to contact the individual to offer assistance. We are working hard to contact all British nationals we are aware of who remain in Afghanistan to help them leave the country.
"The safety of British citizens is our top priority, which is why we have been urging British citizens to leave Afghanistan by commercial means since April 21. On August 6 we updated our advice to urge British citizens to leave immediately and to update us on their departure plans."